In Memory
Jerome Lawrence Friedman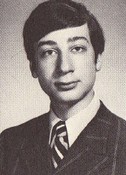 Attended New Trier West and Sunset Ridge Jr. High

FRIEDMAN , JEROME L .
Jerome L . Friedman , 52, April 29, 2006. Beloved son of Elliot and Renee Friedman ; loving brother of Terrence Friedman ; dear nephew of Frances Brown; devoted cousin of many. Funeral services Tuesday, May 2, 2006, 11 a.m. at Piser Funeral Chapels, 9200 N. Skokie Blvd. (at Church St.), Skokie. Interment Waldheim Cemetery, Forest Park, IL.
Chicago Tribune (IL)
Date: May 1, 2006
Edition: Chicagoland Final
Record Number: CTR0605010091
Copyright (c) 2006, Chicago Tribune Company. All rights reserved.