New Trier East and West

High School

s
50th REUNION CHANGE OF DATE AGAIN!
OOOOOOOOOOOOOOOOOOOOOOPS!
Skokie Country Club made a mistake and double booked us,
so we have to change our date ONE FINAL TIME!
Our reunion will now be held
Saturday, October 9, 2021,
at Skokie Country Club in Glencoe.
Of course, our reunion committee will plan some events around this date, so do expect a full weekend of fun, including some Junior High Reunions on Friday night, a tour of your campus on Saturday morning, and a brunch on Sunday morning.
We have reached out to the Renaissance Chicago North Shore Hotel (7 minutes from SCC), and secured a block of rooms at a group rate of $125 a night plus tax for those coming in from out of town. You may book yours at 847-498-6500. Please be sure to tell them you are with the New Trier Class of 1971, as the NT70 reunion is happening just the weekend before.
As the date gets closer, we will be in touch with more details. Until then, please stay safe and be well.
Walter Radloff (NTE)
Marilyn Barrett (NTW)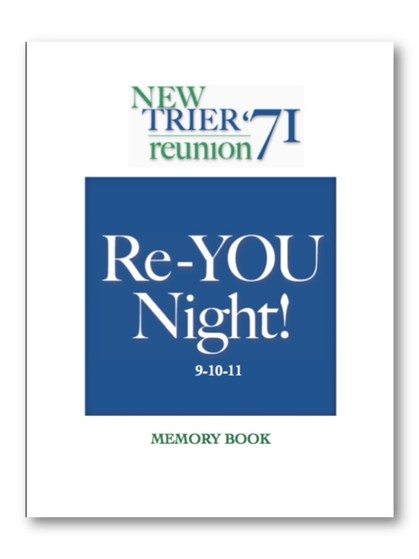 Your Memory Book is Here.
For a real trip down memory lane click here. Enjoy!
If you were there, please share.
Oh what a weekend! What happened at the Reunion should not stay at the Reunion. Please add your own photos to the New Trier Reunion or the Jr. High Reunion Photo galleries. Click on "Photo Gallery" in the yellow menu bar to the left of this page and follow the instructions. Or if you can't figure out how to do it, email them to Marilyn Barrett: marilynbarrett@marilynbarrett.com